Donate Money Online
Online donations are securely processed through PayPal. You do not need a PayPal account to make a donation online. Upon successful completion of your online donation, you will receive an email confirmation that can be printed and used for tax purposes.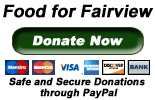 Donate Money by Mail
If you prefer to make a donation by check to Food for Fairview please mail to:
Food for Fairview
PO Box 2077
Fairview, NC 28730
All gifts are tax deductible. Food for Fairview is a Tax Exempt 501 (C) (3) Corporation – Federal ID # 58-2539200
Financial information about this organization and a copy of its license are available from the State Solicitation Licensing Branch at 919-807 2214. The license is not an endorsement by the State.
For additional information please call
828.628.4322
or reach us from our Contact page
Donations of Food
Donation of Food is greatly appreciated. You can donate non-perishable canned goods and food staples in good condition within the expiration date, produce from local gardens, diapers, paper products, and hygiene items. Deliveries can be made during our open hours on Mondays from 3:00 pm until 6:00 pm, at the lower level of the Fairview Community Center at 1357 E. Charlotte Hwy. Map directions can be found here and you can contact us by phone at 828.628.4322 or through our contact page.
Donations of Time
If you would like to volunteer your time to assist Food for Fairview as little as 4-5 hours a month can be a great help. There are opportunities available to greet and assist clients, stock shelves, transport food from MANNA Food Bank to the pantry and lend a hand with our fundraisers.
The generous donations of time, food and financial contributions allows us to better serve our local neighbors in need and provide a more responsive outreach with the resources that have been entrusted to us. Together we can work on a shared vision of eliminating hunger in our community of Fairview and in Western North Carolina.
---
"Volunteers aren't paid, not because they are worthless, but because they are priceless."
---
If you have items you'd like to drop off after hours, you can leave your items at one of the following donation sites around town:
Fairview Christian Fellowship (look for the yellow box, lower level of the church)
Fairview Post Office (look for the red wagon)
PLEASE DO NOT LEAVE CHECKS OR CASH AT ANY OF THE ABOVE SITES!
Thank you for your contribution!